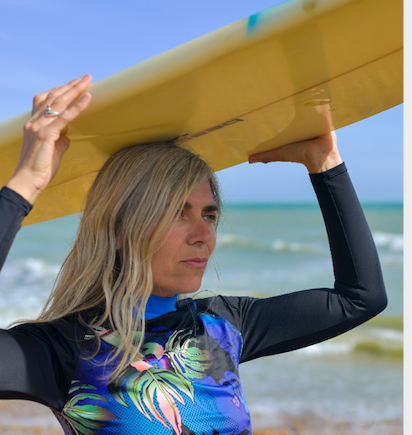 How to be an effective ocean activist - a question on many people's mind at the moment.  
Atlanta Cook has been campaigning for the ocean for a very long time and has not only set up several grass roots projects herself, she was also there at the start of Surfers Against Sewage (SAS) and is the only Honorary Life Member of SAS.  
Atlanta is a surfer, a boogie boarder and has some very beautiful things to say about the ocean.  We talk about how its majesty and power get under your skin and bring tears to your eyes when you befriend it as much as surfers do.
Atlanta first came under my radar when Incredible Oceans Event Manager, Grace Walker and I two handedly pulled off a huge outdoor event with mermaids, sea shanties and a giant inflatable Orca.  Atlanta is a regular at the same Brighton Annual March of the Mermaids, usually accompanied by her daughter.  I'm sure Atlanta is part mermaid for real!
Atlanta has worked on ocean issues at a global level with the Seas At Risk Federation and was able to give Surfers Against Sewage a voice on an international stage.  But it all started with raves at the Zap in Brighton and boogie boarding with world class boogie boarder Jago Eliot who has now sadly passed away.
Back in the early 90s while surfing in Cornwall, Atlanta became aware of the water quality issues and joined forces with SAS bringing their first outpost to Brighton in 1991.  Spurred on by the death of 8 year old Heather Preen they successfully campaigned to improve water quality and prevent as much raw effluent being discharged into our seas.  The Safer Seas programme is the legacy of that campaign. 
Not happy with that, Atlanta took over a local community centre and campaigned to prevent a local nature reserve from becoming a commercial enterprise and has now secured a chunk of funding to turn that into a community classroom that will enable her team and others to run workshops for school groups, working alongside Living Coasts.
I learnt so much from this conversation, about so many different environmental issues that I only knew about from a surface level..  If you want to know more about how to campaign effectively using simple messaging then you will love listening to Atlanta's story.  Her determination is totally awe inspiring.  
Learn More:
Atlanta Cook Marine Environment Consultancy Website
Support the Beacon Hub Crowd Fund
Photo by Mi Elverson for Ruby Moon Swimwear
As ever this podcast has been edited by the wonderful Chloe Aust.
The next episode will be out on 10th October as I am in Costa Rica searching for creatures and swimming with sharks until then!   The previous episodes are all equally inspiring.  Please do comment, review and share as it helps more people find the podcast.
Thank you for your support!